UEH New President and 2 Vices in the '20-25 Tenure
Categories

News

Date

09/30/2020
Prof. Su Dinh Thanh is the President of the UEH, as his former – Prof. Nguyen Dong Phong, now holds the Chairman of the University Council title.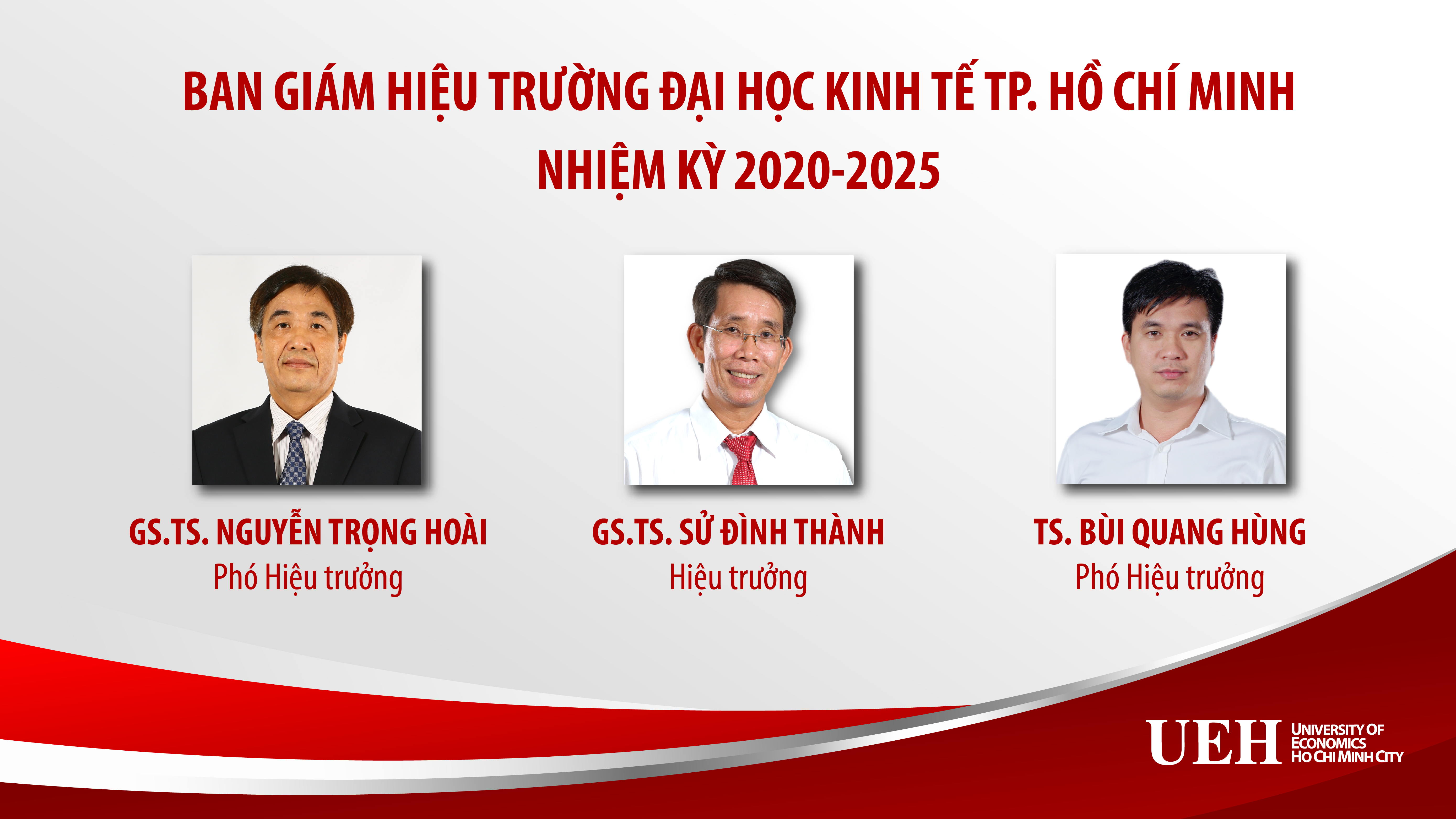 Prof. Su Dinh Thanh was born in 1965, was achieved Associate Professor in 2005, Professor in 2015. Before the accreditation, he has over 30 years of working experience. He was the Dean of Public Finance School (2007-2016) and Chief Editor of the Journal of Asian Business and Economic Studies – JABES later on. Prof. Thanh contributed a considerable effort to the University development, especially with fostering international publication. The JABES has made a significant step, transforming into the most prestigious scientific administration, economic journal in Vietnam, and international publication published by Emerald under his leadership.
In the next five years, Prof. Thanh set the goal to bring UEH into the multi-disciplinary university, research-oriented in par with other school members, and finally, being on QS's top 500 Institutions in Asia.
In the meantime, UEH also deployed the Vice-president voting process according to Higher Education Law and its updated modification in which several terms are also justified. By which, Prof. Nguyen Trong Hoai continued to hold the Vice-President position until the end of his maximum age as a manager which is governed by law, and in charge of undergraduate, postgraduate training and quality accredictation. Prof. Nguyen Trong Hoai was born in 1961, MA in 1997, PhD in 2002 on Development Economics at Colombo University. He was appointed Professor of Economics in 2015 and is now a member of the Economic Professor Council. In 2006-2011 he was the Dean of the School of Economics and holding the Vice-President title since 2011.
Dr. Bui Quang Hung is appointed Vice-President in charge of finance, facilities, and information technology application in the university. Born in 1978, was MA in Business Administration of Thailand's AIT in 2003, MA in Finance of France's ESCP-EAP a year later, and PhD. in Accounting in UEH in 2019. By the time of his career in UEH, he was the former lecturer of the Accounting Department, UEH Communist Youth Union Secretary (2007-2012), Chief of Finance and Accounting Department then Chief of HR Department since February 2020, Deputy Secretary of the Party-Committee since June 2020.
The New Term Board of Management will endure the UEH development strategies in the next 5 year with nine key projects, including: Restructuring UEH, forming UEH multidisciplinary development; accrediting the quality of schools and training programs according to international standards; digital transforming to better serve the management; blended learning online / offline; improving the quality of the team in terms of expertise, English and increasing the proportion of international lecturers; mobilizing resources for UEH development; increasing exchange of international lecturers and students; enhancing the university's academic reputation; promoting the UEH partnership model.
The Proclamation of the new President and Vices has been held successfully today, September 28th.
The University Economics of Ho Chi Minh City is currently one of the national keypoint universities, with critical acclaim in economic education, management, and law fields in Vietnam. The UEH has been consecutively in list 1000 Top business universities and Top 25 best universities globally. "Significantly contribute to life-long career development" by U-Multirank. With more than 44 years established and developed, the UEH has been an educational hub for economic experts, administrators, and successful entrepreneurs with OUTSTANDING QUALITY – PRACTICAL ENTITLE – INTERNATIONAL OUTREACH.